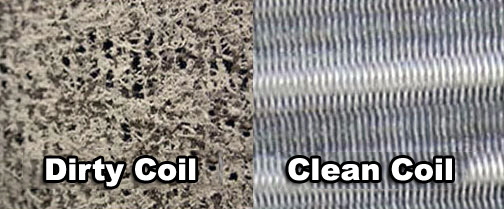 Cleaning your air conditioner's condenser coils regularly will let your air conditioner run cooler with less energy and make you feel more comfortable.You should only need to fully clean the air conditioner once a year, but if you live trees or bushes, you may have to clean the unit more frequently during the spring, possibly weekly or even daily and doing so can help prevent emergency maintenance when you need your home at its coolest.
Disconnect power to the air conditioner : Look for the shutoff box outside near the unit. If there is not shutoff box, you will need to know where the circuit breaker is located to turn the power off there.
Remove outer case: Depending how the outer case of access panels are attached, you will need either a screw or nut driver to do this.
Remove top of air conditioner: Some air conditioners are constructed with the fan assembly attached to the top. If your air conditioner is constructed this way, you will be careful not to stretch or damage any wires.
Clean and lubricate assembly: You will clean any dirt off the fan blades and use a shop vacuum to clean dirt off the fan motor and shaft. If the motor requires any lubrication, a small amount will be applied to each of its lubrication ports.
Clean A/C coils: Dirt will be whisked away from the surface of the coils with a broom.
Spray trapped dirt away from coils : After covering any exposed wires or motors with plastic, using either water or a biodegradable foaming cleaner will spray cleaner soak for 10 to 15 minutes on the coils.
Remove cleaner: Spraying rinse water from the inside, you will remove the cleaner and any dirt away from the air conditioner coils.
Inspect coil fins for damage: Using a special comb, you can straighten any bent coil fins.
Reassemble the air conditioner: You will reassemble your air conditioner now that your coils are clean
Here at All Appliance Parts we stock everything you need to keep you ac units running during the hot summer. We also are positing a 15% off coupon for you to use in our two locations.